For the soldier Verquent (XBOX only), see Verquent (Soldier).
Verquent (Leader)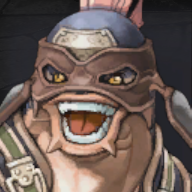 Starting Statistics PC
HP
1,009
AP
9/96
Parameters
Main Hand
STR
57
ATK
78
INT
35
DEF
20
SPD
20
MYS
98
Cowardice
80
M. DEF
23
Equipment & Class
Class
Rogue Athlum Soldier
Weapon
Elite's Grandclub
Accessory 1
None
Accessory 2
None
Default Wield Style
Two-Handed
Starting Unit BR
65
Other Information
Race & Union Name
Union Name
Verquent's Union
Race
Yama
Japanese Voice
Unknown
English Voice
Unknown
Guild & Hiring
Home Guild
Union of the Golden Chalice
Hire From
Baaluk
Rehire Delay
After 100 battles
Wage
Unknown (XBOX) / 144,000g (PC)
Emblem & Formation Attributes
Emblem
Army of Athlum

No Special

Male

Yama

Speed

Recovery
Element Defense & Morale
Morale
70
Flame
5%
Slash
10%
Thunder
10%
Bludgeon
20%
Frost
10%
Maul
5%
Lytic
20%
Pierce
5%
Venom
5%
Availability
Edit
Available at BR 65 after Koenigsdorf.
Weapons
Generic (these will be replaced with weapons from the upgrade path)
Ad blocker interference detected!
Wikia is a free-to-use site that makes money from advertising. We have a modified experience for viewers using ad blockers

Wikia is not accessible if you've made further modifications. Remove the custom ad blocker rule(s) and the page will load as expected.