For any other Siebenbur Path, see Siebenbur.
An underground cavern that has been maintained from the days of the Imperator. It has entrances from every region, though no one knows why this is so.
This location has one area. It is missable! To gain access talk to the Qsiti War Veteran in the Union of the Golden Chalice Guild in Celapaleis once you have access to The Ivory Peaks or accept the Seeker of the Ancient Path quest.
This location ends up with a dead end in The Final Fortress.
The First Path
Edit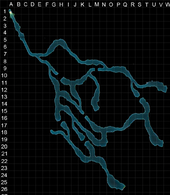 Local Bestiary
Edit
This lists all the monsters that appear in this location. You get all of the primary group (both monsters listed for the group) together with one monster of the secondary - either one of the regulars or one of the rares.
Boss Monsters
Ad blocker interference detected!
Wikia is a free-to-use site that makes money from advertising. We have a modified experience for viewers using ad blockers

Wikia is not accessible if you've made further modifications. Remove the custom ad blocker rule(s) and the page will load as expected.