Lukorra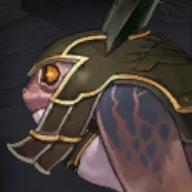 Knight in the Order of Melphina. Friendly and outgoing, but easily spooked.
Starting Statistics PC
HP
451
AP
10/62
Parameters
Main Hand
STR
27
ATK
64
INT
42
DEF
14
SPD
20
MYS
61
Humor
23
M. DEF
16
Equipment & Class
Class
Adept Magus
Weapon
Warrior's Scimitar
Accessory 1
Superlative Ring
Accessory 2
None
Default Wield Style
Power Grip
Starting Unit BR
32
Other Information
Race & Union Name
Union Name
Lukorra's Section
Race
Qsiti
Japanese Voice
Unknown
English Voice
Unknown
Guild & Hiring
Home Guild
Union of the Golden Chalice
Hire From
Melphina
Rehire Delay
After 10 battles
Wage
9,200g (XBOX) / 9,400g (PC)
Emblem & Formation Attributes
Emblem
The Order of Melphina


No Special

Male

Qsiti

Physical

Mystic

Speed
Element Defense & Morale
Morale
69
Flame
5%
Slash
5%
Thunder
10%
Bludgeon
10%
Frost
20%
Maul
20%
Lytic
10%
Pierce
5%
Venom
5%
Availability
Edit
Must agree with Roberto at least once in the quests The Broken Seal, The Disappearing Knights, The Reviving Legend.
This character is missable if the quest chain is not finished before going to the Aqueducts.
Weapons
Generic (these will be replaced with weapons from the upgrade path)
Weapon Components
| | | | |
| --- | --- | --- | --- |
| Weapon | Item 1 | Item 2 | Item 3 |
Ad blocker interference detected!
Wikia is a free-to-use site that makes money from advertising. We have a modified experience for viewers using ad blockers

Wikia is not accessible if you've made further modifications. Remove the custom ad blocker rule(s) and the page will load as expected.