Irina Sykes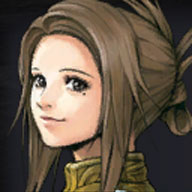 Rush's sister. Sweet and cheerful, but with a deep stubborn streak. Able to control Remnants through Marion's Blessing.
Starting Statistics PC
HP
719
AP
17/137
Parameters
Main Hand
STR
31
ATK
57
INT
66
DEF
14
SPD
27
MYS
89
Bonds
37
M. DEF
23
Equipment and Class
Starting Class
Legendary Scholar
Starting Weapon
Champion's Scepter
Starting Accessory 1
Premier Amulet
Starting Accessory 2
None
Unique Accessory
Talisman
Default Wield Style
Two-Handed
Starting Unit Rank
Battle Rank 64
Extra Information
Union Name
Irina and friends
Age
14
Gender
Female
Race
Mitra
Japanese Voice
Kaori Nazuka
English Voice
Erika Lenhart
Emblem & Formation Attributes
Emblem    Sykes
Special
Female
Mitra
Physical
Mystic
Speed
Recovery
Element Defense & Morale
Morale
34
Flame
5%
Slash
5%
Thunder
20%
Bludgeon
10%
Frost
10%
Maul
20%
Lytic
10%
Pierce
5%
Venom
5%
Irina Sykes is the sister of the main character, Rush.
Background
Edit
Irina and her older brother Rush both lived on idyllic Eulam Island until she is unexpectedly kidnapped by a mysterious group. At first glance, Irina seems like your average teen, but she is able to stay cheerful and upbeat even through the toughest times. Some mysterious power seems to rest within her, but she herself has no understanding of what it is, or what it can do.
Irina joins the party after you go from Fornstrand, then to Elysion, then back to Athlum and the final party size upgrade is received.
Weapons
Generic (these will be replaced with weapons from the upgrade path)
Quotes
"I'll do my best!" (When chosen as a union leader)
"No leave us alone!" (When deadlocked or flanked)
"Aw" (If she inflicts less damage than usual)
"I-I don't want to do this..." (While performing Omnistrike)
"Waah! Rush..." (When KOed)
"C'mon, guys!" (when dead-locking an enemy)
"We did it!" (when an enemy is terminated)
"Haven't you stared long enough?" (When checking her stats)
"Boo.." (when Rush refuses to 'lend' her an item)
"LOOK OUT!" (When rear assaulted)
"Hang in there, okay?" (When healing a friendly union)
"Hraaah!" (When countering an attack)
"Yay!" (When her stats increase)
"Yes!" (When a new art is learnt)
"Come on! From the side!" (When initiating a Flank Attack)
"They're weak over here!" (When initiating a Flank Attack)
"Come on, guys! We can do this!" (when in command selection menu)
"You okay?" (When healing a friendly union)
"You'll be alright now!" (When healing/reviving a friendly union)
"The hell did that happen?" (When initiating Deadlock)
"Don't push yourself!" (When reviving a union or individual unit)
"Mister Torgal/Blocter/Pagus/David/Miss Emmy!" (When one of them is KO'd while in her party)
"Rush!" (when Rush's KO'd in the same union)
"Wow" (when a party member terminates an enemy union in one hit)
"I don't like the looks of this" (Sometimes while selecting commands for the party she's in)
Ad blocker interference detected!
Wikia is a free-to-use site that makes money from advertising. We have a modified experience for viewers using ad blockers

Wikia is not accessible if you've made further modifications. Remove the custom ad blocker rule(s) and the page will load as expected.