Hanuman
Click here for name in other languages.

A captured Hanuman can be sold at a high price and the taste is indescribable.
Category
Rare
Location
Darken Forest
Race (family)
Imp
Class
Mystic Fiend
Battle Rank
   Base BR:
   Bonus BR:
   Maximum BR:

71-73
8-12
98
Hit Points
   XBOX:
   PC:

~ 83,000
77,409-130,796
Captured Value
   XBOX:
   PC:

5,544g
13,230g
Multi-Deadlock:
Up to 3 Unions
Attack Effect
Acid Burn
[Lytic] Attack +5
Ailments

| | | |
| --- | --- | --- |
| Black Out | | Silence |
| Poison | | Paralyze |
Related Guild Tasks:

Spoiler warning: Location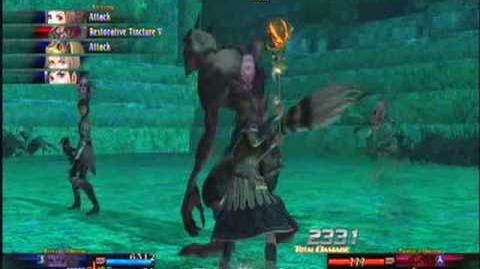 Can be found in The Wanderer's Ruins at B-4 just before the exit to The Abyssal Forest.
XBOX version: Only Mandragoras will be present in the area.
Recovers from ailments the next turn.
Can be respawned.
Ad blocker interference detected!
Wikia is a free-to-use site that makes money from advertising. We have a modified experience for viewers using ad blockers

Wikia is not accessible if you've made further modifications. Remove the custom ad blocker rule(s) and the page will load as expected.