Long ago this area was home to a bustling village, blessed with fertile soil by the Remnant Rubber Soul.
This location has one area. It becomes available via the Intruders in Dillmoor story event.
Dillmoor
Edit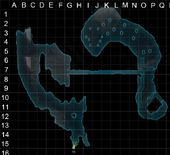 Local Bestiary
This lists all the monsters that appear in this location. You can get one of the primary groups (both monsters listed for the group) together with one monster of the secondary - either one of the regulars or one of the rares. All rares at this location can be spawned without having to kill another rare first.

Boss Monsters

Ad blocker interference detected!
Wikia is a free-to-use site that makes money from advertising. We have a modified experience for viewers using ad blockers

Wikia is not accessible if you've made further modifications. Remove the custom ad blocker rule(s) and the page will load as expected.