Ancient Blue
Click here for name in other languages.

A captured Ancient Blue can be sold at a high price and the taste is indescribable.
Category
Rare
Location
Vale of the Gods
Race (family)
Manticore
Class
Mystic Fiend
Battle Rank
   Base BR:
   Bonus BR:
   Maximum BR:

37-39
16-20
78
Hit Points
   XBOX:
   PC:

~ 20,000
20,835-75,600
Captured Value
   XBOX:
   PC:

3,456g
8,400g
Multi-Deadlock:
Up to 3 Unions
Attack Effect
Petrify
Ailments

| | | |
| --- | --- | --- |
| Black Out | | Silence |
| Poison | | Paralyze |
Related Guild Tasks:

Spoiler warning: Location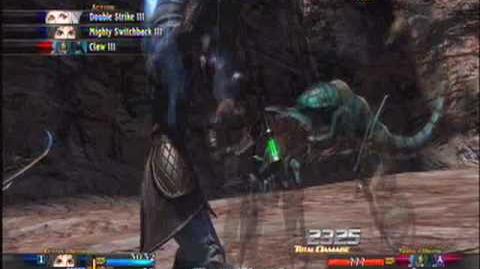 Spawns at the southwestern alcove where there is a single dig spot on the wall, close to the west exit (location G-10). It will unburrow when you get close. Only Leap Frogs and Flauroses can be present.
Ad blocker interference detected!
Wikia is a free-to-use site that makes money from advertising. We have a modified experience for viewers using ad blockers

Wikia is not accessible if you've made further modifications. Remove the custom ad blocker rule(s) and the page will load as expected.